How to build custom segments?
The process of creating custom segments
Why to use custom segments?
Custom audience segments - examples
Build your own custom segment with OnAudience
Overview:
Creating custom audience segments is the activity of dividing consumers into groups with specific attributes. Companies can segment clients according to various factors, such as age, interests, gender, marital status or industry. It helps to deliver the right message to the right audience and improves brand experience.
How to build custom segments?
Customer segmentation in digital marketing is based on 3rd party data. Data providers offer ready-made segments, such as profiles interested in automotive, but for marketers, it may not be enough. To create highly personalized messages and target audience with specific attributes, they need to create a custom segment dedicated to an upcoming campaign.
They can choose a set of attributes from a long list to create the perfect group of customers. Marketers segment clients by mixing attributes from various groups, e.g. demography, interests or purchase intentions. The list of attributes may include for example:
Age
Gender
Life stage
Industry
Sports
Health & Fitness
Electronics
To create perfect custom segment marketers can combine attributes and choose the most important qualities for the specific campaign. It is like building a new figure with small blocks – choose the right ones and connect them precisely to create a real profile that helps you improve your digital marketing efforts.
Data providers build various data taxonomies – users' segments grouped into categories such as interests, demography or favourite brands. You can combine those attributes to create a target group you are looking for. To create the group you need, check audience segments that a specific data provider offers.
The process of creating custom segments
There are many techniques of customer segmentation, but the goal is always the same – to find the right audience. We can point out four steps that lead to the creation of custom segment.
1. Define your target audience
Characterise your best clients. Think about what they like or dislike, where they live or work. The more details about your audience you have, the more accurate will be your custom audience.
2. A team of data scientists will create custom segment tailored to the specific campaign
When data provider knows the target audience well, the company's team starts to mix users' attributes. They usually apply machine learning attributes to search databases with millions of user profiles and select the right attributes to create a segment that fits marketers' needs.
3. The custom segment is available on data marketplaces as a private deal
A target audience is crucial for the effectiveness of conducted campaigns. That is why ready-made custom segments are available only for the chosen company as a private deal.
4. The segment is ready to be used in a specific campaign
The new segment is ready to target your audience in online campaigns. You can choose the right segment and deliver the right message to customers who are really interested in specific products or services. And personalised campaigns can help you significantly increase the effectiveness of your online marketing activities.
Why to use custom segments?
Marketers segment customers mostly to deliver personalised content to the right audience and improve digital campaigns. Segmentation is also helpful in product development – when companies better understand future clients' needs, they can design services or products that solve real problems. On the other hand, if you already have a product and want to improve it, knowing your audience is the right way to start.
However, understanding of human needs is important in digital campaigns. Using accurate segment, allow marketers to create messages that will resonate with specific groups. Ads become personalised messages, an interesting content that is tailored to the chosen audience.
Deep knowledge about your audience can also help you find the best communication channel, such as email, social media or specific websites. If you know where and when your clients spend time, what they like, you can choose the best place to show them your marketing message.
Custom audiences help you improve relationship with your customers. Deliver them the content they expect, surprise them and they really appreciate it, which means that you significantly enhance your brand experience.
You can test the potential of a custom segment in one campaign, but to reveal the true power of dedicated audiences you need at least a few clients' groups. What benefits does it give your company? One of the most important thing is that you can find specific groups among all your clients. You know customers who spend the most, clients that buy regularly or just specific products.
It makes it possible to test pricing options. Marketers can also focus on the most profitable customers and send them personalised messages or you can test upsell and cross-sell techniques to increase your revenues.
Custom audience segments – examples
Data providers create various custom audience segments tailored to the client's needs. Companies can create general segments (often seasonal) and license them to global data platforms or they can make a segment dedicated to a specific campaign and visible only to the chosen company.
There are many general audience segments that belong to specific categories, such as Automotive -> Car owner or Travel -> Airline flyers, Beach lovers. OnAudience.com also creates general custom segments, which are available through global data platforms. Below you can find two examples described in details: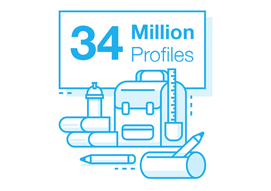 Back to school
Millions of pupils comes back to school after holidays. Their parents plan what to buy for the new season, so OnAudience.com prepared a dedicated segment to reach out to people interested in education and plan to spend cash for their children.
Christmas heavy shoppers
The segment was dedicated for the pre-Christmas period. 
It was updated every day and included clients who have been buying products online every single day for the last fourteen days.
Build your own custom segment with OnAudience
General or seasonal segments are useful and can boost your sales, but custom segments dedicated to a specific campaign can be a powerful driver of your online marketing efforts.
To prepare perfect audience group our data scientists team use OnAudience.com data warehouse that includes over 21 billion anonymous user profiles from all around the world. They apply machine learning algorithms to analyse behaviour of your audience and then create a segment that will convert the best in the upcoming campaign.
Create your own custom segment and check how it'll improve your campaigns. Contact OnAudience.com team or check the Audience Data to understand better how the segmentation works and what attributes you can combine to create profile of your best client.