Create a custom segment with DMP
Custom segment: example
But first - a data point 
Let's create a custom segment now
Why custom segment?
According to IAB's report, 71% of consumers prefer ads targeted to their interests and shopping habits, so it is reasonable that your ads must be customized for the website visitors. Any non-standard requests from the target audience must be predicted and included in your targeting campaign. It is possible with custom segmentation.
Create a custom segment with DMP
You can create custom segments using a Data Management Platform (DMP) – a technology that helps you organize all the data that you collect and divide the visitors into groups. You can define the most advanced segmentation rules for your segments and track your visitors' browser behavior. With this knowledge, you are able to create the most tailored content.
DMP allows you to collect data through the cookies from your digital space – your website, or a landing page. Later, you can organize, segment and activate your data using DMP interface. Created on DMP full customer picture helps to reach your target audience intelligently by identifying the attributes that stand them out of the rest of internet users. It's a foundation of the most precise targeting campaign. Learn more about what is customer segmentation and how to use custom segments.
Custom segment: example
For the sake of clarity, let's clear a few terminology points. Every segment consists of so-called data points, which represent a certain attribute of a user, who visits the webpage. It's like a trait that typifies this user. These attributes are connected with each other within the segment with logical statements, e.g. OR, AND. Now, let's see it in practice?
Let's say we have a client, who is a sportswear company owner. They are about to launch a new collection for ladies. So, the company's goal is to promote the new products among the women, who want to lose weight, build muscles, start running or jogging. Also women, who are looking for stylish and comfortable clothes. 
Those are the main points that we will include in our custom segment. So, the attributes of each visitor that matches the given criteria will automatically be added to the segment statistics. 
But first – a data point 
We will depict the creation of custom segment with DMP screenshots. First things first – we need a Data Points tab: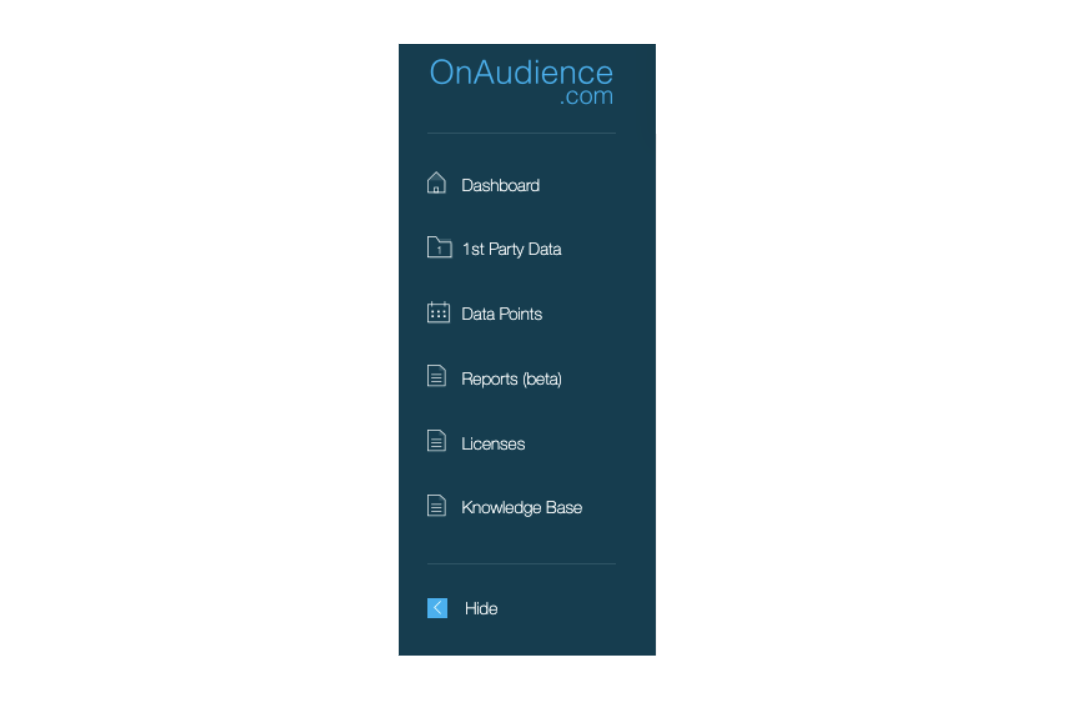 We created a new folder for new data points. This folder needs to be chosen in a dialog window, which pops up every time we create a new data point.
OnAudience DMP allows creating data points with type Attribute or Event. Attribute type is based on the comparison of predefined data point values. Event type is based on predefined events, performed by the website visitors. In our case, the search for the target audience is based on the actual visitor's behavior. So we choose Event type: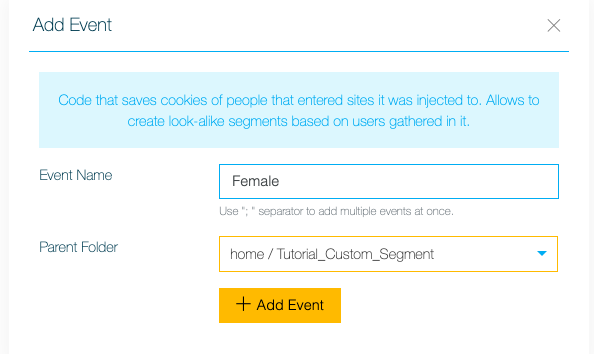 We input here a name for our new data point and a parent folder for it. Our first data point will be for searching users with Female gender since women belong to our target audience.
The same way we create the rest of the data points with mentioned attributes:
1. Healthy Living
2. Healthy Living -> Fitness and Exercise
3. Healthy Living -> Fitness and Exercise -> Running and Jogging
4. Healthy Living -> Fitness and Exercise -> Participant Sports
5. Healthy Living -> Fitness and Exercise -> Building Muscle
6. Style & Fashion
7. Style & Fashion -> Women's Clothing
By including certain sections of the website we create our own taxonomy along with own conversion paths. Each of the data points owns its unique tracking code, which we add to the website source code. It's an invisible pixel that tracks visitors' online behavior and delivers data to DMP. 
Meantime, DMP allows observing statistics for a data point and presents it with different graphs, such as:
Partner Coverage timeline 

Partner Coverage chart

Partner Coverage list

Coverage Growth

They will be filling along with visitors' number raising. 
Now, we are ready to create our segment!
Let's create a custom segment now
1st Party Data view is on the left side of DMP interface.

'+ Add Segment' button opens a page with data points tree we have access to and a new segment form where we can choose the data points and set logical statements for them. Available types of segments allow gathering user profiles for different marketing purposes.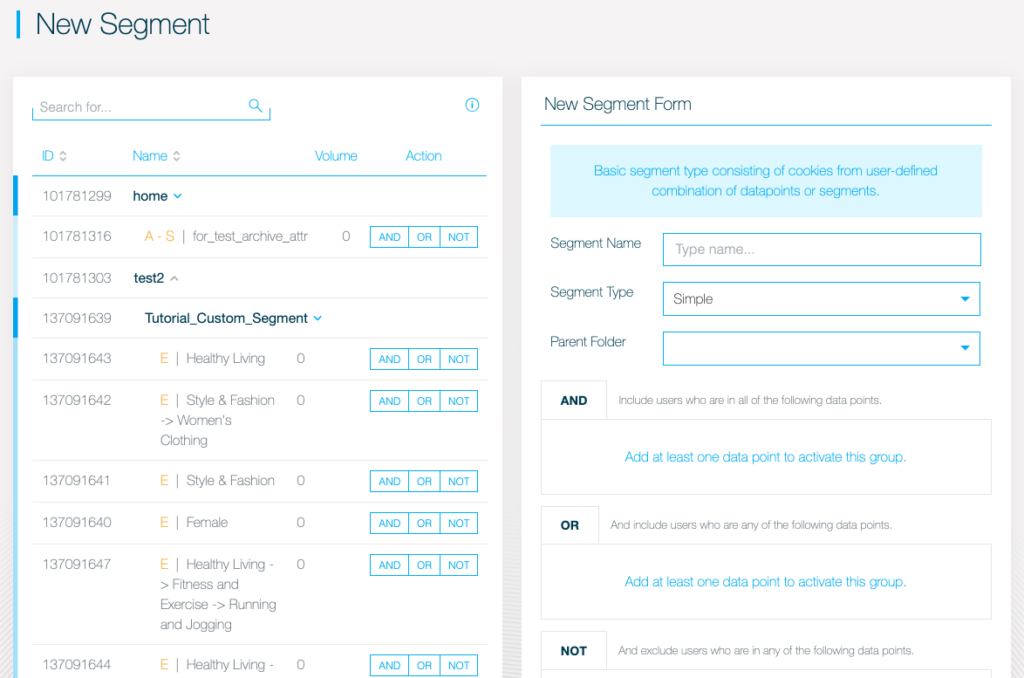 Look-alike segment type exists to expand a customer network by looking for the digital twins of the best converting users. For the promoting goal of the sportswear company, we choose Simple type. 
As long as our target audience is women, we include respective data points into AND section.

As for the interests, like losing weight, running or building muscles, it's not necessary and even hardly possible for one user to have all of them, so we include these data points into OR section. 
The number of days represents a maximum timeframe for users' possible interests and intentions. It's actually a difference between what the users just read about (interests) and what they actually want to buy (intentions). Purchasing intentions have a rather shorter 'lifetime', while interests are 'living' longer. That's why for Style & Fashion section and Women's clothing particularly, we put 14 days as a maximum. For e.g., running, losing weight we put 30 days. 
With the number of occurrences, we can make a segment stronger or weaker, depending on its goal. For example, by adding 'At least 5 occurrences' to the Fitness and Excercise data point we make sure that a user with a strong interest in fitness is added to the segment. Also, we rather exclude a person with less passion for fitness and exercise.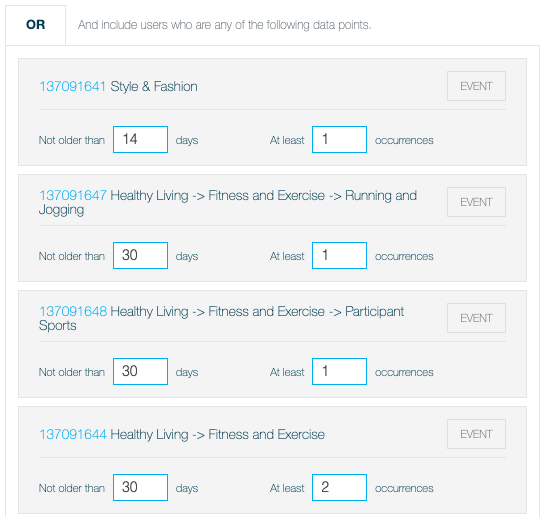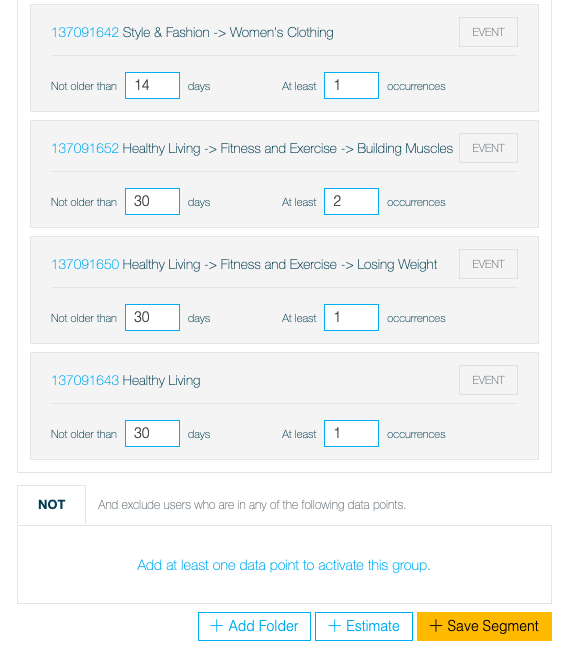 The saved segment can be licensed to the integrated system. The segment's statistics are available within the following graphs:
Partner Coverage timeline

Partner Coverage table

Partner Coverage chart

Geographic Spread

Coverage Growth

Gender

Demography

Why custom segment?
It's super important to customize a message that you are sending to your target audience, and the segmentation can definitely help you with that. Before any action, you need to think and consider exactly what segments you need to create. It's directly connected to your business goals, products or services you offer.
In case you are wondering if we have already created segments on DMP that might suit your business needs so you don't have to create them from scratch, yes. We do have.