Gather all audience data on one platform
Audience Reports - free feature of OnAudience.com DMP
What types of data does Audience Reports include?
Getting feedback from your users - Mopinion software
Knowledge about your customers leads to effective communication. When you know their needs, interests or intentions, you can prepare personalized messages to improve customer experience and finally – increase ROI. Check how to get valuable insights about online audience.
Gather all audience data on one platform
To know your users well, store all your data in one place. It's easy to manage all digital information on one platform, which integrate small digital footprints from various sources to create full view of users. That is why implementing a Data Management Platform is worth considering. To learn more about this platforms, check What is a DMP.
In general, when you collecting audience data on DMP, algorithms analyze and process informations to give you insights about interests, demographics and intentions of your users. What's more, you can check which attributes differentiate your users from target group or from general Internet user. When you know it, it is much easier to prepare personalised messages that'll improve your marketing efforts.
Audience Reports – free feature of OnAudience.com DMP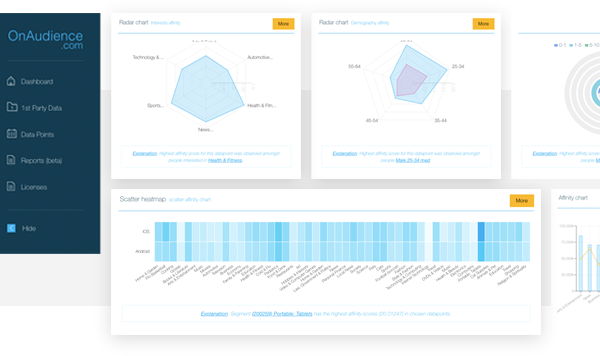 If you use OnAudience.com DMP, you got access to audience reports that you can generate instantly and whenever you need to. And when you know your audience well, you can easily find your target group and run highly personalized campaigns.
Audience Report helps you:
instantly analyze your target audience
know your users interests, intentions and behaviour
check what differentiate them from general Internet user
<What's really interesting, the reports enable you to find behavioral characteristics of users in relation to the base group. It enable you to find what differentiate e.g. your best converting users from the whole population of your country. In other words, Audience Reports, show you which attributes are occurring the most often among your best clients. It gives you a great insight for finding new clients and targeting the right users in upcoming campaigns.
What types of data does Audience Reports include?
Thank to the reports you can know various groups of users. For example, people who visit your product website. Thanks to this knowledge you'll know what is characteristic for users who see your most expensive products or the cheapest ones.
The report that you can generate in seconds, includes:
Top interests of your target group
Age groups of your users
Gender
On the basis of the information above you can prepare the right messages and target them at the right group. Tailoring ads to user interests and needs is at your fingertips. What's more, if you want to widen your target group, you can choose 3rd party data segments directly from a DMP. Check how to find your target audience.
Getting feedback from your users – Mopinion software
Knowledge about your users' preferences is a valuable insight. If you know where your online visitors are struggling, you can use this feedback to improve funnels and boost sales.
To get valuable feedback you can use tools such as Mopinion. It is a feedback analytics software that enables its users to create customisable online feedback forms (including various CX metrics such as NPS, CES, and CSAT) and trigger them based on rules such as mouse movement, time on page, exit intent and much more.